Vous avez une question sexy?
Publié par Laura Beeston
** Désolé, seulement disponible en anglais. **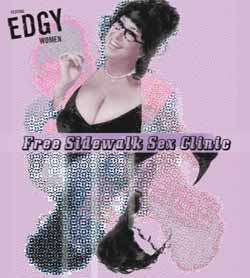 The Edgy Women Festival is pleased to present a Free Sidewalk Sex Clinic for all your sex inquiries…
Hosted by radical sex educators and artists Annie Sprinkle & Elizabeth Stephens—who certainly pleased the sold-out crowd at La Sala Rossa Saturday—this event is both a public service and an interventionist art event.
"There are really no expectations," Elizabeth Stephens explained to Edgy. "It's another way of opening up space for certain kinds of discussions that aren't ordinarily discussed in public. We've gotten a lot of different questions [in the past]. A huge range of questions from people who have felt isolated or afraid, and maybe had shame about sex. People also just want to come and talk about their own expertise."
"And people come and want to teach us about stuff, too, which is fine," giggled Sprinkle.
"But the beauty of sex," explained Stephens, "is that you can always learn more."
Bring your sexy questions to the Powerhouse Gallerie La Centrale (4296 St. Laurent Blvd.) TOMORROW, Monday March 21 from 11h30 – 14h!