DETAILS - J'ACTE/I ACT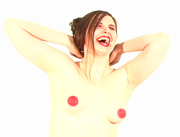 Historical and topical overview of performance video. Artist Eugénie Cliche was invited to focus on a specific aspect of Groupe Intervention Video's collection. The program she curated features a dozen artists (often performers) and covers the period 1996-2012.
The act of performing is defined as a gesture, an intervention, a trick, an accomplishment. Perhaps it can also be a report or a contract?
Videos presented :
Camouflagehead, Diyan Achjadi, 2000, 3', Canada
When parts of you are still away, Victoria Stanton, 2009, 5'32. Québec
Lullabye for the almost falling woman, Cathy Sisler, 1996, 21'03 , Québec
Artist statement, Kinga Araya, 2003, 03'30, Québec
Fade in grey, Lamathilde, 2011, 0'28, Québec
Twitch, Deborah VanSlet / Sarah Williams, 1999, 3'03, Québec
Qu'est-ce que ça veut dire ?, Mihee Nathalie Lemoine, 2010, 01', Québec
Brothers, Anne Golden, 1998, 06', Québec
Peptalk, Dayna McLeod, 2011, 01'08, Québec
Sans titre, Véronique Garneau-Allard, 2006, 2'00, Québec
Échelle humaine, Manon De Pauw, 2002, 4', Québec
Don't blink for 45 seconds, Sheena Hoszko, 2007, 1'31, Québec
Play with me mon coeur, Isabelle Lapierre, 2009, 3'00, Québec
Photo : caption from Véronique Garneau-Allard's film