Artists' Biographies / En On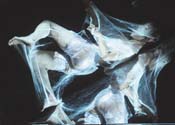 Born in Tokyo, Yumiko Yoshioka is a dancer, choreographer, teacher and art director based in Germany since 1988. In the early 70s and 80s, she was a member of the first Japanese women's Butoh dance company, ARIADONE. In 1978, she performed in Paris in the first Butoh performance outside of Japan. From 1988 to 1994, she was an active member of the German/Japanese dance theatre company tatoeba. In 1995, Yumiko co-founded TEN PEN CHii art labor with visual artist Joachim Manger (Germany) and music composer Zam Johnson (USA). Yumiko researches the interactivity between dance, space and visual art, moving away from conventional Butoh dance. Her latest creations are The Song of Iris (Athens, 2008) and and Bika (Germany, 2009).
Based in NYC from 1988 to 2004 Karen Sherman now lives in Minneapolis and works out of both cities. Her work is noted for its visuality and commentary on the human emotional landscape, while her unusual movement choices and adventurous approach to performance have won her recognition from artists, audiences and critics across the aesthetic spectrum. She is inspired by science, social issues and the impact of one's surroundings on the individual. Her representations of sexual identity, and the experience of inhabiting the female body specifically, push beyond the conventional to give voice to the queer body, and are hallmarks of her performances. She holds a BFA in Acting from NYU's Tisch School of the Arts (with a double major in Women's Studies) and is also a singer, fifth-generation lasso spinner and former student of the flying trapeze. As Administrator and Production Manager of New York's legendary Judson Church, she co-created, produced, and curated stART, a multi-disciplinary series integrating politics and arts. www.karenshermanperformance.org
Lise Vigneault has been active as a physical comedian in Montreal since her move here in 2007. Her research of circus, sideshow, and street performance in Melbourne, and improvised comedy in Paris has led Lise to perform in a variety of disciplines such as dance, theatre, multimedia, clown, performance, and cabaret. A regular on the Montreal cabaret circuit, Lise has created a following of fans with her unusual brand of 'female empowerment'.