In Succube biographies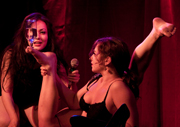 Born into a traditional Quebec Family, Andreane Leclerc ran away and joined the circus at the age of 9. The National Circus School took her in for a while, but she eventually went on her own way, from festivals to modern and traveling circuses, German cabarets, and conceptual performances. A slight tendency toward existentialism guides this snake-woman through her Master's Degree in Dramatic Art at UQÀM. She works on empowering the technique of contortion as a malleable material, capable of directing the viewer into a world of sensations and imagery beyond the spectacular. Et pourquoi pas! – Disparue – Sherepaka et VA are her first creations based on the question of being and the present. She also collaborates with the band The Unsettlers, her body becoming an instrument, a musical body of flesh. Andreane now continues her path in various collaborations with Holly Gauthier-Frankel in which they dive into the heart of fantasy: InSuccube.
Holly Gauthier-Frankel is a Montreal-born-and-raised singer, writer, actor and burlesque performer. Born into a family of musicians, Holly has been working for 23 years, lending her voice to Emmy-Award-winning cartoons, and hundreds of other shows and albums. But it is as her burlesque alter-ego, Miss Sugarpuss, that she has garnered the most critical acclaim. Considered one of the "Top Ten Most Desirable Women" in the Montreal Mirror's 2008, 2010, and 2011 BOM Polls, Miss Sugarpuss performs regularly in cabaret clubs and theatres in Montréal, New York City, and Tokyo. InSuccube has allowed her to combine her love of dance, experimental theatre and humour in order to explore new and uncharted territories of the heart and the soul.
Lisa Gamble is a Montreal based improvisational noise artist and multi instrumentalist. She is a lo-fi hack sound-machine, creating layers of tonal bliss and devastating rumbles. Beats and waves. Hand-made, one-of-a-kind electronics. Crappy gear and children's toys. Samples, subsonic bass rumbles, contact mics, bowed bike wheels. Telephones, Styrofoam, musical saws and musical spatulas, home-made synths and circuit-bent toys. Distortion is a favorite companion. Gambletron is known for innovating "noise karaoke," making fake soundtracks, sock puppet choirs, and hosting all-ages circuit-bending workshops. Gambletron tours internationally and has played many festivals. She has played on many records and can be found regularly collaborating with Matana Robert's Coin Coin, Carla Bozulich's Evangelista, Hrsta, Clues and Greenland's current pop sensation- Nive Nielsen and the Deer Children.
Photo : Valérie Sangin