The Blog
The Edgy Women festival explores the complexity of contemporary feminism, through avant-garde artistic events. This year, Edgy offers two outspoken guest bloggers carte blanche to broadcast their personal perspectives on issues relating to the festival's political and artistic content. We welcome all of you to contribute to the diversity and depth of the conversation by posting your thoughtful comments!
Our Authors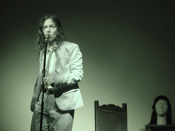 This workshop is a laboratory about transformation. Through our bodies, writing, singing, and dancing we will create performances/original work in both groups and individually. A very unique experience that will allow you to open and reconnect with creative forces that you didn't even know were there. Open to everybody.
EDGY WOMEN and EDGY REDUX Edgy Women and Edgy Redux are feminist experimental art events devised by Miriam Ginestier and produced by Studio 303 that ran for 23 years from 1994 to 2016. Commemorating International Women's Day, Edgy Redux continued the Edgy Women Festival's mission to explore the complexity of contemporary feminisms through fun, experimental, [...]
EDGY REDUX: THE END After 23 years of undisciplined feminist performance, Edgy Women/Redux is on its way out as 2016 marks the FINAL edition of Edgy activities at Studio 303 (click here to read Miriam Ginestier's statement). A meditation on Edgy's 23-year history, this final offering looks back on the festivals' love of experimentation and [...]
(Français) Edgy Women fait tout sauf nous enfermer. Edgy nous offre une occasion de faire éclater nos cadres et de se réfléchir autrement, dans la plus belle des diversités qui soit. Dois-je rappeler que c'est un festival d'art féministe? Et ça, votre article n'en parle pas. Shame.
"Shame is a lie someone told you about yourself." Getting to the bottom of this lie is at the crux of this year's headlining bill Les Demimondes, whose Operation Snatch played at Studio 303 March 30 to April 1. Featuring a veteran Edgy troupe via Toronto consisting of syndicated Montreal Mirror sex columnist Alexandra Tigchelaar [...]
Radikale - Vous avez participé à la game de hockey du festival d'art féministe Edgy-Women. Parlez-nous de votre expérience? B12 - "Même si on a passé plus de temps su'l cul que sur nos patins, on a donné notre 110% sur la glace. Les joueuses et le goaleur, seul gars d'la place, on sué leur [...]
The U Pop conference is perhaps one of the more engaging, yet under appreciated, parts of the Edgy Women Festival. This is a crime. Today, a dozen or so of us sat around and spoke about what we had seen over the last few weeks, and it's amazing what you can learn about the choices [...]
"What language is this in?" he asked, sounding almost impatient while waiting in line for tickets. "Is it French? English? It's a bit ambiguous." "Neither; it's contortion. You'll like it." Without knowing it at the time, this exchange—heard on the winding stairs of the Sala Rossa before tonight's Edgy performance In Succube—would truly mark the [...]
SPIN ne m'a pas fait tourner la tête A priori, j'avais hâte de voir un show musicalo-vélocipèdaire. Vraiment. Mais pour tout vous dire, une fois rendue, j'avais plutôt hâte que ça finisse. Ouch, c'est dur d'écrire ça, parce que je sais que le show de Evelyn Parry de jeudi soir à la Sala Rosa a [...]
The striptease isn't something one might typically associate with an media conference. Nor, perhaps, would you expect the elements of an academic lecture while taking in an exotic dancer. But this unorthodox cross-hair set the scene for Je Baise Les Yeux, an Edgy bill that explores the social mythologies of this timeless dance through the [...]