Out of Line, Right on Time
Posted by Laura Beeston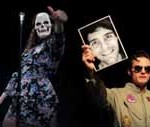 The Edgy extras this year just keep getting better. Take advantage of them, in their affordable (read: free) amazingness, tomorrow afternoon for an artists' chat with Winnipeg-based theatre team Mia Van Leuwen and Ian Mozdzen at McGill University.
I know I'm thrilled to meet and interact with this dynamic duo—very personally as a Winnipegger, a UofW Theatre alum and HUGE fan of Claire Borody, whom she expresses gratitude for pushing her performance art (and who also influenced mine!)—and you know you're dealing with Winnipeg theatre royalty when an artist can boast working in intimate circles with THE Guy Maddin. Gosh. (Gush)
Performing Le Petit Mort, an act "inspired by French philosopher Goerges Bataille's L'Homme Mort, Mia van Leeuwen lets us see a woman consumed by loss and shame taking a leap into naked nakedness. And she does it like we all do: she goes on a bender. But no ordinary bender. Only Bataille could dream up this one - filled with urine, vomit, shit, and snatchey snatches. But don't take our word for it. Go ahead, ask the gnome…"
So before they hit up the Mainline, for what sounds like a graphic series of evenings, why not start with a preview?
<< Mia Van  perform with local lovelies Nathalie Claude & Danielle Lecourtois. March 30th to April 2nd at 8 p.m. / MainLine Theatre (3997 St-Laurent) / mainlinetheatre.ca, 514-849-3378 >>