Je Baise les Yeux biographies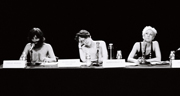 Gaëlle Bourges studied ballet, contemporary dance, and modern literature, becomes flexible through theatre, and later starts to make rather short choreographic pieces. She has a degree from University Paris VIII in Performing Arts, and is a Somatic Movement Educator from the Body-Mind Centering School.
Marianne Chargois explores her performing skills on various stages : she is, among other things, a contorsionist, an actress and a sex worker, and feeds her practice with her life experience.
Gaspard Delanoë is generally a performer and at the moment running for the presidency in France.
Alice Roland has specialized in OBscure Poetry and OBscene Performances and works alternately in both domains. She also works intermittently as a translator, a contemporary dancer and a stripper.
Photo : Kit Brown