Post-Fest Thoughts*
Posted by amy
EDGY WOMEN FESTIVAL: Festival? What festival?
Compartmentalizing art makes it difficult to decide what goes in what showcase

Spending last week in Montréal for the 17th edition of The Edgy Women Festival, I return home to Edmonton with the same question two years in a row: would Festival City be open to this type of festival, and how would the works be viewed and contextualized? Last year's festival favourite Jess Dobkin returned with her first full-length piece, "Everything I've Got," and speaking as both a critic and organizer who has been trying to bring this piece into town, I remain at a loss as to which of our city's array of festivals her work could possibly fit in to. It's not just that the performance may be radically queer, which would align it to new kid on the block, Exposure: Edmonton's Queer Arts and Culture Festival, or that the work needs to be understood as performance art, which would fit into Visualeyez: Canada's Annual Performance Art Festival; or that it needs to be formally staged as a theatre piece exploring the physical vulnerabilities of the human body, which would maybe fit into The Expanse Movement Arts Festival.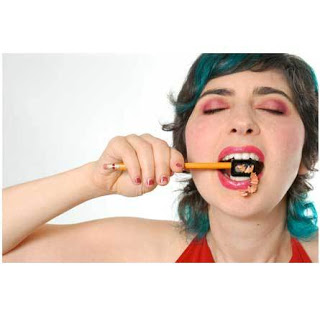 Image credit: Jess Dobkin by David Hawe

Dobkin's works, like many contemporary works that are of interest, do not fall neatly or even hardly into any single artistic category—and nor should they. The question I am asking is this: if the most innovative works continue to exist outside of our predetermined themes, how will we ever make room for this type of work to be shown here in predetermined Festival City?
Shannon Cochrane, who founded and continues to curate Toronto's 7a-11d International Festival of Performance Art gave an exemplary performance of a work that could exist in various worlds, from white-cube galleries to site-specific to black box theatre. Cochrane's work is deeply methodical in its acknowledgment of its own art history, with a focus on intent and transparency. When following performances by old school circus theatre and aggressive contemporary dance from France, Cochrane was not contextualized nor constrained under a single lens, but existed as another shade of artistic engagement.
Audience development is always of interest, and always a learning curve when it comes to interdisciplinary work. The audiences that packed Tangente Theatre in Montréal were a real cross-section of the population that could have just as easily shown up to any art gallery, concert or just gone out to dinner. There was no framework that the festival was politically and formally aligning to queer feminist performance works, though that recurring theme was neither a given nor a surprise. This was mostly about a chance to see more women on stage, and though maybe the politics have been taken for granted, they also don't need to be repeated reassuringly into the marketing strategies—the programming should say it all. One of the resulting gems of lining up mixed nights is that no one art form can purport to be marginalized, as there is a false hierarchy between disciplines such as theatre, dance, music, film and performance art that many artists have unfortunately lived up to.
Art has been said to be a state of encounter, one that I read as mutually affecting both artist/performer and audience in an almost chemical way that is also visceral and mental, emotional and spiritual. I believe this, and so I wonder why we continue to group our intakes of art into such discrete compartments.
While pedantic, disciplines are important for distinguishing formal concerns and progress, though there has always been constant and vibrant overlap between the disciplines throughout history that push each form to grow and remain relevant. Once a discipline has been named, we as artists, audience and media need to remember that disciplines are not fixed, but fluid concepts that should be open for questioning.
*First published in Vue Weekly and republished on Prairie Artsters
- Amy Fung
One Response for "Post-Fest Thoughts*"