Electronic Formality for the Everywoman
Posted by Jessica Young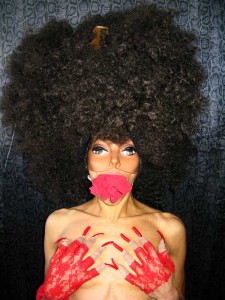 I wrote to Narcissister a few weeks ago. As I anxiously composed a short email, introducing myself and telling her how excited I was to be attending TANGENTE X 3, I found myself confessing: "I am not a performance artist or an artist of any kind, really, but I love to talk about sex and bodies and audiences and feminism and kink."
I was reaching, trying to find some way to appeal electronically to the masked, consistently naked, and always glamorously challenging persona I had been researching. Aside from her website (www.narcissister.com), the many copy-and-paste bios scattering my Google search, and the odd magazine article featuring the neo-burlesque beauty, I didn't have a lot to work with.
Before tapping out my plea, I'd spent some time perusing Narcissister's online persona. If you aren't sure what to expect on the evenings of March 24, 25, and 26 at this year's Edgy Women Festival, consider her website an amazing resource for uninitiated.
A couple of themes emerge, but the mainstay here is that Narcissister keeps her performance intimidating and in-your-face by purposefully concealing her own. Whether you are watching her sway, seduce, and sartorially skew the traditional striptease to the strains of Chaka Khan's "I'm Every Woman," or bump-and-grind her way through a punishingly pleasurable ride atop an exercise bike, the performing isn't obscured by the performer; it's strategic, and it's effective.
Her work extends from live performance and video to creative mixed media, each piece pushing any comfortable conception of femininity to the side of the stage and crushing it beneath the toe of glossy stiletto heel. Described as a subversive spectacle, a neo-burlesque Dada-esque creative force, a naughty nude performer, and self-described as a "post-modern, post-feminist sex artist," Narcissister is clearly pushing her own boundaries as an artist. What is remarkable about watching her, however, is that she demands the same of her audience.
While I may not have the lithe vocabulary that comes with a fluency in the performing arts, I can appreciate what Narcissister is bringing to the table. There is a lot to work through, with sex and bodies and audiences and feminism and kink all being a part of it.
And who doesn't love to talk about that?
Performing at this year's Edgy Women Festival alongside anti-cool and Leslie Baker as part of TANGENTE X 3, Narcissister can be seen performing an expanded version of her seminal piece Every Woman March 24, 25, and 26th at 19:30 and March 27 at 16:00.
For more information, check out the Edgy Women website, and for a sneak peak of her work, check out the video section of Narcissister's website.
2 Responses for "Electronic Formality for the Everywoman"