UNRULY HOCKEY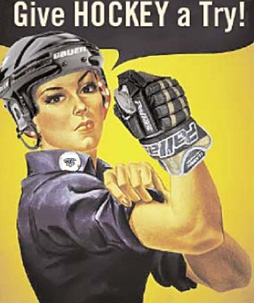 Thursday March 7th – 11:00 p.m. – half past midnight @ Mont-Royal Arena FREE!
On the heels of last year's successful first match, our feminist hockey experiment is back. Created by Meg Hewings, writer, multi-disciplinary artist and the general director of The Montreal Stars, this match is an open invitation to buck the norms of our national sport. http://hockeydykeincanada.ca/
All ages and skillsets welcome to participate at this unusual hockey match.
Want to watch? Wear a costume! Bring friends! Bring your attitude!
Want to play? Come at 10:30 with helmet (mandatory) and gear (whatever you have)
Want to skate? Bring your skates and join us for the midnight Hockey Derby Disco Party!
Schedule
10:30 p.m: Sign-in (Players)
11:45 p.m: Locker-room meeting (Players)
11:10 p.m: Opening Ceremony (Players)
11:15 p.m: Warm-up (Players)
11:20-12p.m.: MATCH (Players)
12:00-12:30 a.m.: SKATING PARTY (Everyone!)
Afterwards: Hot Chocolate and/or beer – check out our facebook event for details!