Workshops
PERFORMING INTIMACY
Teacher: Jess Dobkin (Toronto)
Dates: March 22-26 (5 days) • Mon-Fri, 10am to 1pm
Site: Studio 303
Cost: $75 (Emploi-Québec)
Open to all interdisciplinary and movement artists (actors, dancers, visual performance and circus artists, mimes).
This intensive week-long workshop will focus on ideas and actions of intimacy in performance. Through the lens of exploring intimacy in performance practice, we will consider practical strategies and conceptual possibilities for working with narrative and use of the body, the performer/audience relationship, and diverse presentation platforms and sites. Participants will generate new work through the workshop experience, and are also invited to bring work in development for discussion.
Jess Dobkin's performances, artist's talks and workshops are presented at museums, galleries, theatres and universities internationally. She creates innovative live and video solo performances, as well as multiple artist productions. Her creative endeavors have received wide support and recognition, including awards from the Canada Council for the Arts, the Ontario Arts Council, and Toronto Arts Council, and repeated funding from the Franklin Furnace Fund for Performance Art and the Astraea Foundation. Her work has toured internationally, and she has performed, lectured and conducted performance art workshops in the US, Canada, Germany, Belgium, and the UK. Her perfomances have been presented at renowned avant-garde venues in New York and Toronto. Jess has presented as a Visiting Artist at numerous universities including Yale University, Columbia University, Cornell University, New York University, Brown University. She has worked as a Sessional Lecturer in the Visual Studies department at the University of Toronto, and is currently an Instructor at the Ontario College of Art & Design. She also serves on the Board of Directors at YYZ Artists' Outlet. She lives in Toronto. http://www.jessdobkin.com
---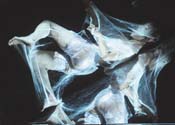 Teacher: Yumiko Yoshioka (Germany)
Dates: March 27-31 (5 days) • Sat-Wed, 10am to 1pm
Site: Studio 303
Cost: $75 (Emploi-Québec)
Open to all performance artists (actors, dancers, circus artists, mimes).
The Body is a receptacle of time. Through an exploration down to a groundless stage of collective memories in our past, we can strike a vein of abundant resources, enriching the essence of our life. Yumiko helps to activate these forgotten memories in our body by concentrating on our inner core, our Ki (vital) energy and its circulation. Body Resonance is a key to open up the ever-changing world inside and outside of us and to let them dance. Yumiko helps the body open secret doors, extracting the essence from a workshop participant, holding it until it shines and trembles.
Yumiko Yoshioka is a dancer, choreographer, teacher and art director. She was born in Tokyo, and is residing in Germany since 1988. In the early seventies and eighties, she was a member of the first Japanese women's Butoh dance company, Ariadone. In 1978, she performed with Ko Murobushi and Carlotta Ikeda in Le Dernier Eden (in Paris), a first Butoh performance outside of Japan. From 1988 to 1994, she was an active member of German – Japanese dance theatre company Tatoeba – Theatre Danse Grotesque. In 1995, Yumiko founded the art-formation group Ten Pen Chii art labor with visual artist Joachim Manger (Germany). Ten Pen Chii resides at Schloss Broellin (Castle Broellin), International Art Research Location, situated in the former East Germany. Yumiko researches the interactivity between dance, space and visual art, moving away from conventional Butoh dance. She explores new zones in body works and performing arts in her collaborations with other artists. Besides international tours throughout Asia, Europe, Oceania and North & South America, she is an art director of Ex…it! (Dance Exchange Research Project, since 1995 – present) along with delta RA'i, in which more than 100 artists and dance students from all over the world joins.
---
Registration
Space is limited & reservations are recommended at 514.393.3771 or by email at [email protected]. A $20 deposit is required.
RQD members are eligible for a partial reimbursement for non Emploi-Quebec workshops.
For Emploi-Quebec subsidized workshops, please contact us for eligibility requirements.
We only accept cash or cheques.
You can either mail a cheque or come and pay at our office during business hours.
Reimbursement policy
- No reimbursement for the occasional missed class.
- Sickness/ injury: total reimbursement of missed classes, including the initial deposit if none of the classes has been followed.
- Scheduling conflict: partial reimbursement (non-applicable if there is a waiting list). We keep 20% of the total price as an administration fee.
- Planned absences: possibility of a special rate.
- Other situations: evaluated on a case per case basis.