Edgy Artist Talks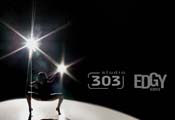 For the second year in a row, Studio 303 presents a series of ARTIST TALKS with performers programmed in the 2010 Edgy Women Festival. This year, our partners are Concordia University, UQAM, and the Simone de Beauvoir Institute. The series will open March 8th, on International Women's Day, with a film screening and dicussion by Dayna McLeod followed by an artist talk by Karen Sherman from Minneapolis on March 26th. The series closes April 8th with a conference by the French dance company from Marseille La Zampa.
---
Artist talk with Dayna McLeod (Montreal)
Monday, March 8th from 8:30pm to 10pm
Site: Simone de Beauvoir Institute (2170 Bishop, MU 101 & 203)
Language: in English
Cost: Free!
Film screening and talk with Montreal-based performance artist and filmmaker Dayna McLeod on the International Women's Day. Dayna McLeod has presented performances & videos in the Edgy Women Festival since 2004 and she is hosting this year for the third time in a row the Edgy Challenge with sidekick Nathalie Claude at the MainLine Theatre on March 20th at 8pm.
Dayna McLeod is a writer, video and performance artist who likes to poke and prod feminism, homophobia, and sexually oriented stereotypes with irony, sex toys, and funny business. She has traveled extensively with her performance work, and her videos have played from London Ontario to London England- across Europe, North America, South America, Asia and a few times on TV. She conceived and coordinates 52pickupvideos.com; a video site whose participants make one video a week for an entire year www.daynarama.com

---
Artist Talk with Karen Sherman (Minneapolis)
Friday, March 26th from 3pm to 4:30pm
at Concordia's Sense Lab as part of the Choreographic Objects seminar
in collaboration with Concordia's Centre for Interdisciplinary Studies in Society and Culture
Site: Concordia University, 1515 Ste-Catherine W., 11th Floor, EV-11-655
Language: in English
Cost: Free!
Karen Sherman's presentation will take place in Concordia's Sense Lab as part of the Choreographic Objects seminar just a few hours before her performance at Tangente. She will perform Demolition Boy on March 25th and 26th at 7:30pm at Tangente with Yumiko Yoshioka (Berlin) and Lise Vignault (Montreal) at Tangente as part of the En On evening.
Based in NYC from 1988 to 2004 Karen Sherman now lives in Minneapolis and works out of both cities. Her work is noted for its visuality and commentary on the human emotional landscape, while her unusual movement choices and adventurous approach to performance have won her recognition from artists, audiences and critics across the aesthetic spectrum. She is inspired by science, social issues and the impact of one's surroundings on the individual. Her representations of sexual identity, and the experience of inhabiting the female body specifically, push beyond the conventional to give voice to the queer body, and are hallmarks of her performances. She holds a BFA in Acting from NYU's Tisch School of the Arts (with a double major in Women's Studies) and is also a singer, fifth-generation lasso spinner and former student of the flying trapeze. As Administrator and Production Manager of New York's legendary Judson Church, she co-created, produced, and curated stART, a multi-disciplinary series integrating politics and arts. www.karenshermanperformance.org

---
La Zampa takes part of: Tribune 840 n°5 - Pourquoi une danse engagée?
with Normand Marcy, Katya Montaignac, Émilie Poirier
presented by UQAM's Dance Department
Wednesday, March 31st from 12:30pm to 2pm
Site: Piscine-théâtre at 840 Cherrier
Language: French
Cost: Free!
Bring your lunch and your ideas!
Voici une question lourde de multiples significations. Elle fait référence tant à l'histoire qu'à la dimension esthétique, sociologique et philosophique de la danse. Elle touche le pourquoi et le comment, elle renvoie au corps comme à la politique, à l'utopie comme au totalitarisme. Renversons la question. Une danse peut-elle être désengagée? Toute manifestation artistique et, d'autant plus, celles qui mettent le corps en jeu ne sont-elles pas déjà actes d'engagement, prises de position et mises en œuvre politique d'une vision du monde et d'un agir?

---
Artist Talk with La Zampa 
(France)
Thursday, April 8th from 12:30pm to 2pm
Site: UQÀM, J.A. DeSève Pavillion (320 Ste-Catherine East, local A-1824)
in collaboration with the Réseau d'études féministes and the Sexology Department
Language: in French
Cost: Free!

Coffee and pastries
A spontaneous presentation (in French!) by Magali Millian and Romuald Luydlin from the French dance company La Zampa about their experience of the performing body, the body on stage, their quest for trouble, for the raw and the ominous. La Zampa presents Dream On Track 1 at Tangente on March 27th & 28th at 7:30pm along with performers Krin Maren Haglund and Shannon Cochrane. The French company will perform again in Montreal on April 10th at 7pm & 9pm at Studio 303 with their latest choreography Requiem.
Magali Milian and Romuald Luydlin met during a workshop at Hivernales d'Avignon, discovered aikido with Eddy Maalem and than continued on their path by trying different approaches to body work. In 1999, they created together Boromée 21 (a collaboration with a classical music ensemble), and then founded the company La Zampa in which they both choreograph and perform. www.lazampa.net